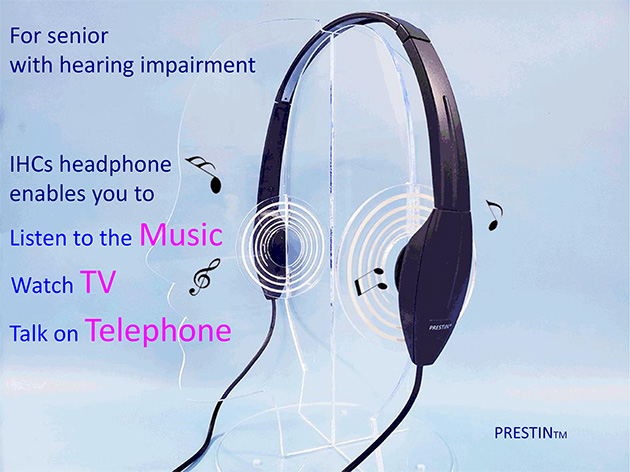 PRESTIN TM


The world FIRST and ONLY
"Listening with the brain"
Sensorineural Hearing Impairment Aids
PRESTINTM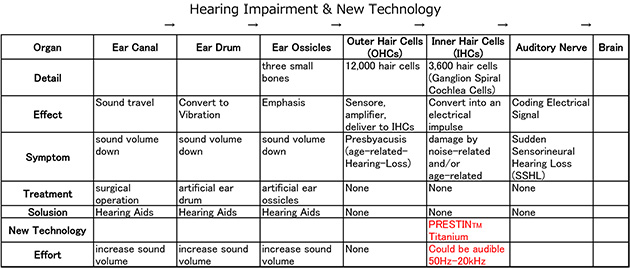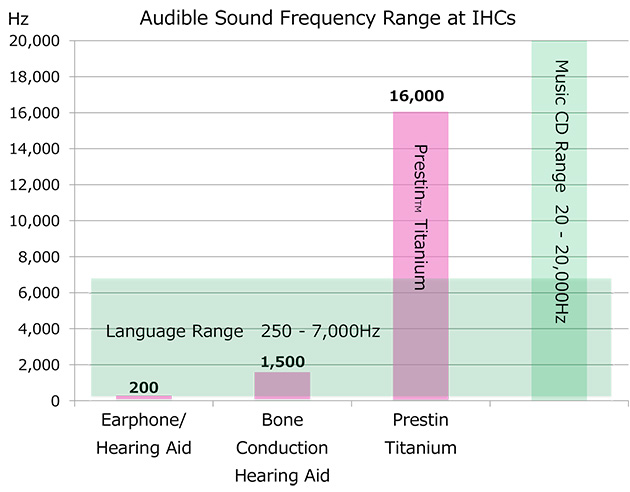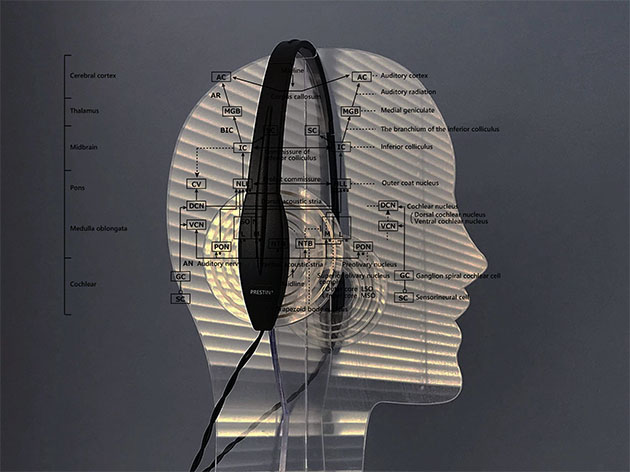 DCC K.K. Japan
https://prestin.jp
Did you know that presbyacusis and noise-induced hearing loss problems that cannot be solved by modern medical treatment?
Hardness of hearing is the most common of human ailments, with 80% being perceptive, and 20% air conductive deafness. (When illness presents both perceptive and air conductive symptoms, it is called combined hearing loss.)
While air conductive hearing loss is treatable by surgery, there is no medical treatment for perceptive hearing loss.
Currently available hearing aids are specifically designed for air conductive hardness of hearing , (other than the low-quality Bone Anchored Hearing Aid (BAHA) implant) no efficacious hearing aids have yet been developed for the sensorial hearing problems. Sufferers of this type of illness have only one available choice if they wish to hear: major implant surgery in cochlea.
Perceptive deafness is due to the death of auditory hair cells, which do not regenerate.
Therefore, once this severe illness occurs hearing is never regained regardless of the age of the patient. It is divided primarily into presbyacusis and noise-induced hearing loss, but besides these two major causes sudden hearing loss, due to auditory nerve damage, also exists.
Presbyacusis is caused by hair cell extinction due to age-related elevation of the free radicals levels. 50% of individuals of 65 years or older in developed countries suffer from this ailment, which renders accurate perception of consonants more difficult, consequently resulting in a drastic fall in word intelligibility. Words sound like gibberish making conversation becomes impossible, television sounds are impossible to hear, and even listening to music is no longer an option.
Beyond merely being untreatable, slowing its rapid advance after first onset is impossible, and it cannot be halted.
Noise-induced hearing loss is caused by hair cell death induced by sound energies present when listening to music at high volumes or extended use of behind-the-ear hearing aids. In particular, the ability to hear the consonants "k, t, f, s, and th" which are situated at 3 KHz ~ 6 KHz is influenced noise-induced hearing which fall in the 4 KHz range, which hampers the ability to understand words and comprehend conversation, or hear melody and instruments. Brian Johnson of AC/DC , whose hearing loss was induced by listening to amplifiers at very high volume is a typical case.
Additionally, auditory hair cells necessarily produce large quantities of active oxygen when processing high volume sound, which has a deleterious effect leading to presbyacusis.
While it is possible to avoid exposure to the sound energy which damages hair cells, preventing progression, treatment is unavailable and recovery impossible for the patient's life span.
What is more, though using air conducted hearing aids (ACHA) for combined hearing loss provides temporary audibility, the extreme volume of these hearing aids actually leads to the further progression of the condition and utter deafness, so ACHA are extremely dangerous. An effective and safe next-generation hearing aid is needed for the approximate 3.2 million sufferers of hearing loss worldwide (at least 5.2% of global population, WHO survey).
In view of this, we will draw on WHO's review on its warning on noise induced hearing loss in order to better understand the elements needed to address this illness.